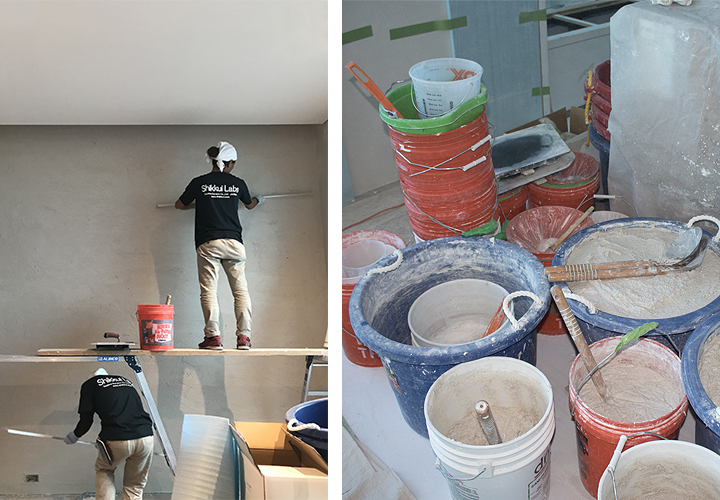 Japanese Shikkui Plaster installation at Tower Residence
Japanese craftsmen have started to apply the first of 3 coats of the traditional Japanese plaster called "Shikkui" on the interior walls of the Manhattan Tower Residence. While originally applied over lath in traditional Japanese architecture, this lime-based material is applied here over drywall to a total thickness of 6mm. The final coat achieves a smooth, matte, white finish which hardens over time as it absorbs atmospheric carbon dioxide over many years after installation.
Additionally, the plaster is known to regulate humidity, is naturally antiseptic, antistatic (dust preventing), hypoallergenic, antifungal and mold resistant. The plaster surfaces have a slight directional texture to them, revealing the movement of the craftsman's hand.
The Shikkui plaster mix was manufactured close to Fukuoka, Japan and contains special ingredients specifically chosen for this project. See also http://www.shikkui.com
Due to its height and slenderness, this residential tower experiences a good amount of story drift under high winds. The smooth, white surfaces of plaster are framed by minimal expansion joints, carefully located to allow for building movement and avoid cracking.